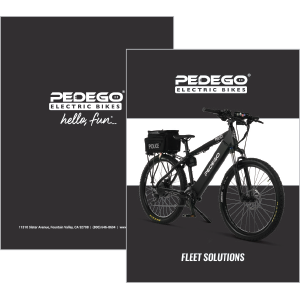 Fleet Folders
These are kept in stock in Nelson. Place your order via e-mail at info@pedegocanada.ca, or include with a bike order for free shipping.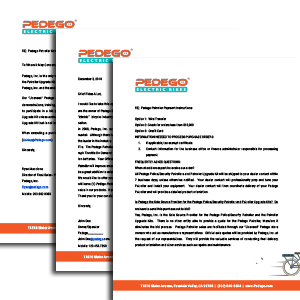 Supporting Documents
Cover Letter, Sole Source, and Payment documents all on Pedego letterhead. Available in Pages and Word formats.
FLEET SOLUTIONS PROCESS AND BEST PRACTICES:
First, you need a fully outfitted demo Patroller or two! It's hard to sell something that you don't have or they can't see.
Participating Pedego Stores will act as a selling agent for Pedego Canada, who is the "Sole Source Provider" of the Pedego Patroller in Canada. This may allow you to eliminate the "Bid" process and expedite the sale cycle.
We have created specific Marketing assets for this process. These presentation folders are available for order. All inserts, docs and the C3Sports.com equipment list are available for download and customization (cover letter) through our dealer support site.
The inserts you see are: 1) A Professional Cover Letter, 2) Business Card Slot, 3) Our Official "Sole Source Provider Letter" and 4) Payment Instructions. These documents explain basic goals, features and benefits and answer most of the important questions in regards to process and payment. Purchasing agents appreciate this info upfront.
Pedego Stores will prospect and solicit police, security and surveillance organisations. This should be done by direct marketing and extended product demonstrations. You can't do any of this without a dedicated demo Patroller so we'd like you to order one for this program.
Just like selling all Pedegos, demos are key. You'll want to offer these organizations the opportunity to try a Pedego Patroller for  one week. Any less is not enough and any longer the thrill is gone.
If you receive a Request For Proposal (RFP) please reach out for an official quote from Pedego Canada. That quote will include all desired equipment. The buyer will pay Pedego Canada, who will order the bikes. The Patroller will come to your store with additional components installed. You will handle final assembly, delivery and orientation, and following this receive your commission.
Contact
Email Mike or Leith at info@pedegocanada.ca