ANNUAL SERVICE POSTCARDS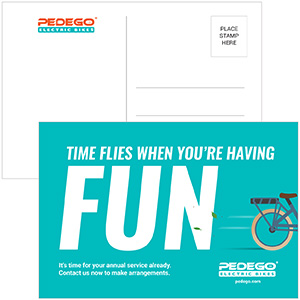 Postcards to remind your customers to come in for their annual service. Ships in packs of 50.
CANADIAN RECAP
We have not been successful using the Pedego Tour app in Canada. For that reason, we want to encourage you to use the People For Bikes Ride Spot app.
From a dealer bulletin sent earlier this year:
We know that many of you are still searching for a good solution for offering your renters a self-guided tour via an app. We have also been actively looking for a good solution.  And I have great news! We found an awesome app that is easy to use and we think your customers are really going to love it.
People for Bikes, a US-based advocacy group focused on making every bike ride safer, easier to access and more fun has developed Ride Spot, a free app to help you find great routes, track your rides, navigate with free turn-by-turn directions and share ride stories. The turn-by-turn navigation was the big selling feature for us. There is voice navigation that keeps the riders on the correct path and just like Google maps will readjust and reroute.
We would like those of you offering rentals to give it a try. Here is how:
Download app on your phone and create an account
Record a popular tour route you'd like to offer your customers, take photos along the way

You are also able to manually enter a route if you don't have the time to do the ride yourself. In that case, you would skip to step 5)

Save the route

In the following steps, you will edit this ride with photos, points of interest, notes and much more

Login to RideSpot.org on your computer – it must be a computer not a tablet or phone
Navigate to "Completed" on the main dashboard

If you are manually entering the route, navigate to the top left corner of the screen and select "Create > Classic Route)

Select the ride you wish to edit
Select edit
Mouse over the map and select "Update route"
You will need to redraw a red route along the purple ride you just completed
In the top left corner of the map is a drop-down menu, select "add POI"
Now you can start adding to your map, each item has a different icon and the ability to add notes and photos
Save the map
Customers will easily be able to find your routes after they download the app or you can also download a QR code to have printed out at your store, customers would just need the app and could scan the code to load the map
The process for your customers to access your routes
Add a link to your website to download the app with instructions on how to find your store and saved routes
Add a link to the app in your Fareharbour email confirmations
Have the QR codes printed off at your store for customers to scan
This might seem daunting but it's actually not and I would be really happy to work with you to get this set up.
We're really excited about this! Not only do we really love supporting People for Bikes by getting more people using their app, we think this is a great solution for those of you who have been looking for years for a great tour app.
Please let me know if you have any questions or need help getting this going.
Thanks!
Jenna